Topics:
Risa's career biography, Risa's style, and Risa's style vs. Larme Kei.
This is Eri and Ruka's second joint post!
Countless Larme fashion fans adore and worship Risa, yet there are few non-Japanese resources that attempt to understand her style and its relationship with the broader Larme style. We hope you find this post useful!
♥
1. Risa's Bio
Born in Tokyo on July 12, 1989, Risa Nakamura (

中村里砂) i

s the daughter of Masatoshi Nakamura (

中村雅俊)

and Junko Ogarashi (

五十嵐淳子

)

. S
he studied Theatre at Tamagawa University's College of Arts before dropping out in 2010 to pursue a modeling career,* and at 160 cm with her doll-like beauty, was already a modeling regular by 2013.* She is one of the faces of LARME magazine, but prior to her career in the sweet and girly magazine, Risa worked as a Katie shop staff member* and was a regular of Gothic & Lolita Bible*. To date, Risa has enjoyed modeling success for numerous designers and brands, and magazines, including Katie, MILK, Angelic Pretty, LARME, ViVi, Vogue Japan, Spur, WWDJapan, Gothic & Lolita Bible, KERA, mon Lily, Beauty Hundred Flowers, Syrup, Liz Lisa, Diamond Lash, Q-Pot, Art Techo, Zipper, and Eyescream.*
From 2014, Risa has made several television appearances on Fuji TV, Nippon Television, TBS, and Yomiuru TV, along with appearing in two music videos: WITCH / ALL CITY STEPPERS and I freak U / flirt.* In 2015, she released her first style book, entitled Risadoll: Risa Nakamura First Style Book. It has been a success both in Japan and on the international J-Fashion scene!
Risa is making her movie debut with The Camellia Girl (Shōjo Tsubaki, 少女椿)!* The live action film is based on Suehiro Maruo's horror manga of the same name.* Risa is playing the role of the protagonist, Midori. The film will be released in Japan in May 2016. We are excited for it! You can view the movie trailer here.
2. Risa's Style
Risa's style is often known as "pheromone fetish." We have already briefly touched upon it in our analysis of the different Larme styles (from the Intro to Larme Fashion Post).
Her style has become incredibly popular. Good e
xamples of Risa's unique look can be found in her social media photos (on Instagram, Twitter, and Line Blog), in her features in Larme magazine, in her collaborations with various brands, and in her own style book.
Roadmap:
We will first provide a list-style description of the general features of Risa's style. We will then explain her style through the example of her recent collaboration with E hyphen Bonbon. We will finally compare Risa's style with Larme fashion as a whole and with other Larme styles.
Stay tuned!

♪( ´▽`)
General features of Risa's style
Style elements drawn from Risa's personal coordinates


Colors:

Black, white, dusty pink, dusty blue, occasionally red, occasionally muted army green
Favored color combinations:

Black + white, pink + black, coordinations with different shades of pink
Fabrics/Texture:

Delicate lace, leather, sheer fabrics (tulle, chiffon), satin, mesh/fishnets, enamel, fur
Patterns:

Mostly solid, fur (leopard, dalmation) print, thin stripes
Cuts:
High-waisted skirts, sleek A-line or pencil silhouettes, cropped or tucked-in tops
Tops:

Lace blouses, Peter Pan collar blouses, simple knits, retro graphic tees (often with fetish-inspired imagery), high neck tops, sheer panel tops
Bottoms:

Midi pencil Skirts, maxi skirts, sheer overlay maxi skirts, A-line miniskirts (mostly all in black!)
One pieces:

Rompers, all-in-ones
Shoes:

Point-toed ankle boots, lace-up flats, classic point-toed pumps (often with lace-up detail), heeled mules, furry detail shoes, platform sandals (also typically all in black)
Accessories:

sheer lace gloves, small hair ribbons, earrings with girly motifs (such as hearts or cherries)
Themes:

Lingerie-inspired, fetish-inspired, feminine elegant/classical
Motifs:

Small hearts, small bows, black pom poms, lace-up detail
Atmosphere:

Dark, dolly, mature, feminine, girly, elegant
Some of Risa's Favored Fashion Brands


Japanese:

E hyphen world gallery BonBon (her own collection), Verybrain, Honey mi Honey, Pameo Pose, Lillilly, Katie
Western
:

Gucci, Miu Miu, Fifi Chachnil, Saint Laurent, Valentino, Agent Provocateur
E hyphen world gallery BonBon x Risa Nakamura
(All the images in this post are linked to their respective sources.)
E hyphen world gallery Bonbon (a sweet and girly Japanese fashion brand founded by Stripe International in 2013) launched a collaboration collection under the direction of Risa Nakakmura in February 2016.* The "Dark Romantic" aesthetic of this collaboration is a perfect example of Risa Nakamura's dark, dolly, and mature style.
Risa has done collaborations with other brands as well. For instance, here is a photoshoot from
Risa's collaboration with Bubbles
. But her style is mostly similar across collaborations, so we will not discuss them individually in order to avoid redundancy.
Risa working at E hyphen BonBon.
Here are a couple of lovely photoshoot images from this collection!
The E hyphen BonBon collection is true to the core features of Risa's style. (The key words in this section are in red.)
The collection features a

limited color palette

of black, white, dusty pink, gray, and muted army green. It favors

varied but generally luxurious textures

such as leather, satin, lace, tulle, enamel, velvet, knit fabrics, and quilted fabrics. Most items in Risa's collection are

solid in color

, but there are also some gingham or small heart print pieces.
Risa's key motifs are prevalent in the collection. There are

lingerie-inspired

pieces such as

garter detai

l skirts and furry slippers. Many items
—
especially the skirts
—
have

lace trims

. The tops and dresses often have

dolly collars

. The decorative features that this collection favors are small

bows

, small printed

hearts

, and small

dots

(such as on a sheer tulle fabric). The shoes have

pom pom

and

lace-up details

and the accessories feature

heart

and

tulle frill

details.
Similar to the tops in Risa's Instagram coordinates, the E hyphen Bonbon tops tend to be

cropped, knit, or sheer

.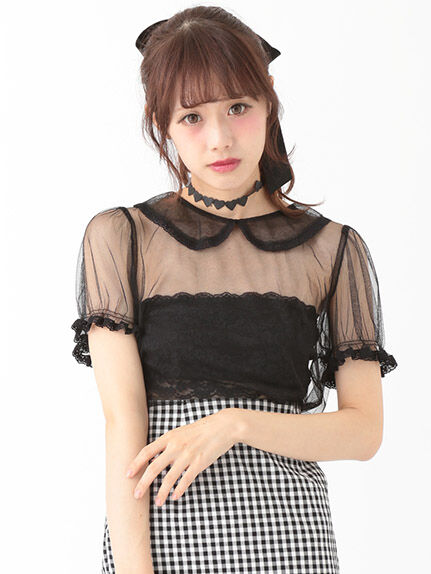 The bottoms in the collection are mostly

pencil-cut or A-line skirts

. Although mini, midi, and maxi skirts are all featured in the collection,

midi skirts

are the most common.
There is an emphasis on

sleek and mature silhouettes

.
E hyphen BonBon's coll
ection also picked up on the trend of sheer tulle-overlay maxi skirts. In addition to skirts, the collection also contains satin lace-trim

shorts

and

culottes

. The key common feature of these bottoms is that they are all

high-waisted

.
The outerwear pieces in this collection include elegant, lace-trim

trench coats

as well as classic

bomber jackets

. The shoes include enamel

pumps

with lace-up, pom pom, and/or tulle frill details as well as

furry slippers

. The shoes are typically worn with

patterned, sheer tights or socks

.
As for accessories, the collection contains

heart detail

chokers,

pom pom

earrings,

tulle frill

detail pouches and purses.
To conclude this section, we find E hyphen Bonbon's collection can be summarized into three aspects/themes: (1) A mature, feminine, and lingerie-inspired look, (2) a dark, dolly-like look, and (3) a casual yet girly look.
Here are examples of each!
1) The mature, feminine, and lingerie-inspired look
2) The dark, dolly-like look
3. Risa's Style vs. Lar

me Kei
Risa's style differs from many of the other Larme styles in terms of fabrics, patterns, colours and items offered.
Unlike Loose Grunge, Pin-Up Dolly, and the more retro and street looks, there is a complete lack of denim in Risa's collections thus far, as she favours much softer and more delicate fabrics.
There are no geometric patterns or American motifs in Risa's style, unlike in Loose Grunge and in "American" Larme-styles.
Risa uses a limited palette in her collections, one which does not include any yellows, oranges, and little to no browns, unlike Basic French and Romantic Girly styles
There is a lack of fringe detail in Risa's style, as she seems to favour more sweet elements such as ruffles and sheer fabrics. There is also a lack of Retro-esque skinny-cut pants.
Risa's collections have a great focus on pumps and sandals, but do not include boots, oxfords, or sneakers. They feature little to no headwear, unlike the hats seen in Loose Grunge, and there is a limited emphasis on bags, purses, brooches and badges.
Despite the many differences between Risa's style and styles found in Larme-magazine, there are many similarities as well. Risa continues to feature the cropped tops, tucked in shirts and high-waisted details found in Larme, as well as the sleek sillhouettes and mature and girly look. There is also a consideration for a limited palette and symmetry through colour, along with the usage of mixed, unique fabrics, such as leather, knits, and lace.
Lingerie is another Larme element that Risa uses wonderfully, and the low emphasis on foot and legwear continue in Risa's designs, as well as a low emphasis on jewellery. Her favoured hairstyles are also quite typical of the Larme look - natural or dark colours, straight or wavy strands, and cute, slightly curled bangs.
Conclusion
Risa's style is certainly one of the most visible and popular Larme fashion styles. While it has a lot of overlap with style elements that are common in Larme fashion as a whole, it also has many key unique aspects.
We hope that you found this post interesting/and or informative. We'd love to hear feedback in the form of comments or emails!
♡